When it comes to turning guest data into revenue, there are few better means to that end than the inbox. A strong hotel email marketing effort is the perfect pair to guest data.
But let's start at the beginning. When you broadly define email like Wikipedia does, you get something like this.
"Communicating the value of a product, service or brand to customers or consumers for the purpose of promoting or selling that product, service, or brand."
The great thing about email is that on each of those points – communication, promotion, product – this channel does an amazing job.
For example, not only can you send a specific message (communication) about a specific offer (product) to a specific person, time and time again surveys have shown that the inbox is exactly where people would prefer to see these messages in the first place.
Three Key Attributes
But let's backup for a minute and quickly talk about why this is. Because part of the reason for this is the nature of email.
It's One-to-One, so every recipient gets a unique message.
It's Data-Driven, so data points data can be tied (and applied) directly to individuals.
It's Affordable, so huge campaigns don't swallow your budget.
Perhaps best of all, email marketing campaigns can be automated.
Here are a few examples of how these pieces come together.
Pre-Arrival Campaign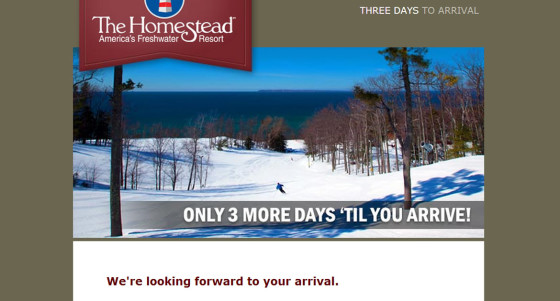 Pre-arrivals email capitalize on a window of high relevance between booking and arrival. These automated email campaigns are sent just before a guest arrives and includes tips, information, and offers that help them make the most of their time at your property.
Booking Reminders


Resort guests share a handful of common habits, but one of the more interesting and helpful habits is the way they tend to book their ski vacations around the same time each year. Knowing this, resorts can use automation to reach out to guests who haven't booked within a year of their last reservation. It may seem like a simple idea, but the results are quite impressive.
Other simple examples might be:
Post-Departures gather valuable survey data and are delivered soon after a guest departs.
Segmented Offers, send deals for local, loyal couples sent only to local, loyal couples.
Allow guests to extend their visit with an attractive offer allowing them to do so.
Drive social media by targeting people who aren't yet following you with a "follow us" campaign.
There's one more point to make here and that is concerning email template design. The success of email depends on giving it the priority and attention it deserves. For example, marketers may spend months and months on a website redesign because it's such a visible part of their marketing communications, but use an old or mismatched email template.
The problem here is that when you look at the numbers of very average email efforts, they get almost as much visibility (and sometimes more) as a resort or hotel website.
Once you see the light, once you roll out a strategy that combines both automated and ad-hoc emails, once you give it the time and attention it deserves, and once you marry it with your guest data, email can drive direct, measurable revenue like no other channel.
Want some advice or ideas for your property or hotel's email marketing strategy? Use the form below to let us know, we'd be happy to help.